Announcements & News
Basketball Registration
Registration for youth basketball starts Monday, August 3rd! Please see below for more information.
1.
Registration: August 3 – September 20. Cost: $75.00 Click
HERE
to register online.
2. If you are registering 3 or more players, please come to the Boaz Rec Center to sign up.
3. Team requests are guaranteed for siblings and step-siblings only.
4. A jersey and shorts will be provided. NOTE: Sample uniforms are available at the Boaz Rec Center. If the uniform does not fit, Boaz Parks and Recreation is not responsible for a replacement.
5. Make checks payable to: Boaz Recreation
6. Age groups will be determined by the age players are as of September 1, 2020.
7. Please bring a copy of the player's birth certificate to the Boaz Rec Center. You may also send it to the office by fax (256-593-7803) or email (nicole.presley@cityofboaz.org).
8. Evaluations will be held at Corley Elementary (505 Mt. Vernon Rd, Boaz, AL 35957)
· 5-6 Co-ed, NO EVALUATIONS
· 7-8 Girls, October 5, 6:00PM-7:00PM
· 9-10 Girls, October 6, 6:00PM-7:00PM
· 11-12 Girls, October 1, 7:00PM-8:00PM
· 7-8 Boys, October 5, 7:00PM-8:00PM
· 9-10 Boys, October 6, 7:00PM-8:00PM
· 11-12 Boys, October 1, 6:00PM-7:00PM
9. Sneakers are mandatory for all play in all divisions. Shoes must be smooth and soft-soled for athletic use.
10. Depending on the number of players, some teams could be co-ed and may involve some travel.
11. Practices will begin in October and games will begin in November on either Monday, Tuesday, or Thursday nights. Some games may be scheduled on Friday nights or Saturday mornings depending on the number of players.
12. Click HERE if you are interested in coaching. Coaches must create a RecDesk profile and register for the program "Request to Coach Basketball". Boaz Parks and Recreation requires individuals to pass a background check and the Coach Safely Act Training yearly.
13. In order to receive a full refund, a request must be made to the office before uniforms are ordered. Once uniforms are ordered, you will only receive a refund of the amount less the cost of the uniform.
14. The Rec Plus Travel League is only available for boys ages 11-12. Players must register for the Rec League and attend tryouts to be eligible to play.
For more information contact the Rec Center 256-593-7862.
Updated Pool Hours - Monday, July 27, 2020
The Boaz Pool will be open regular hours through August 19th. After that date, the pool will remain open on Saturday's and Sunday's only, through the end of August. We will continue to stay open on weekends after the 31st depending on the weather. We have two dates available for pool parties, August 22nd and 29th. Please go online to book a party or come to the Boaz Rec Center during office hours. For more information, contact us at 256-593-7862.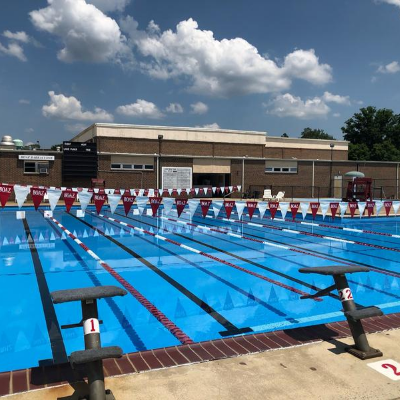 Masks and Face Coverings Required - Wednesday, July 15, 2020
As of Thursday, July 16th, at 5:00 PM, we will be requiring masks at all Boaz Parks and Recreation locations.
Please see below for details and guidelines: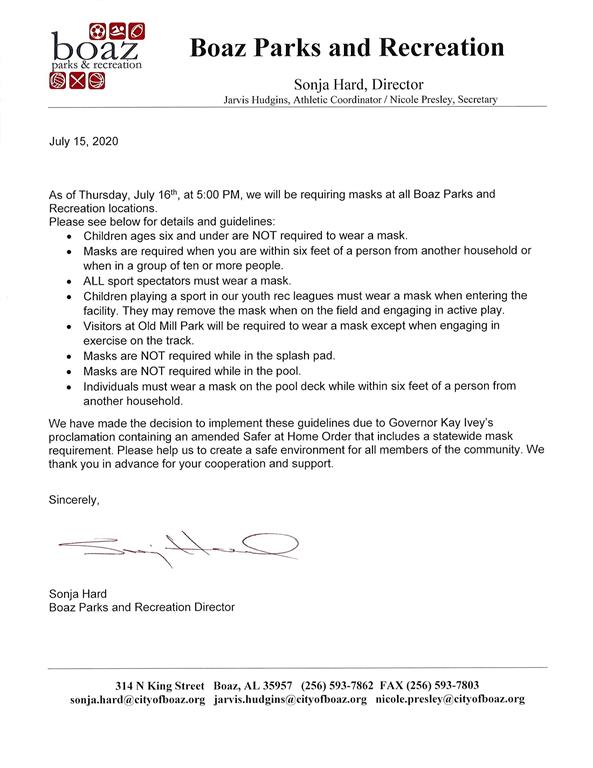 2020 Rec League Update - Thursday, June 18, 2020
Please see below for an update on information concerning our rec baseball, softball, and t-ball leagues. We appreciate the support of our players, parents, guardians, and coaches at this time.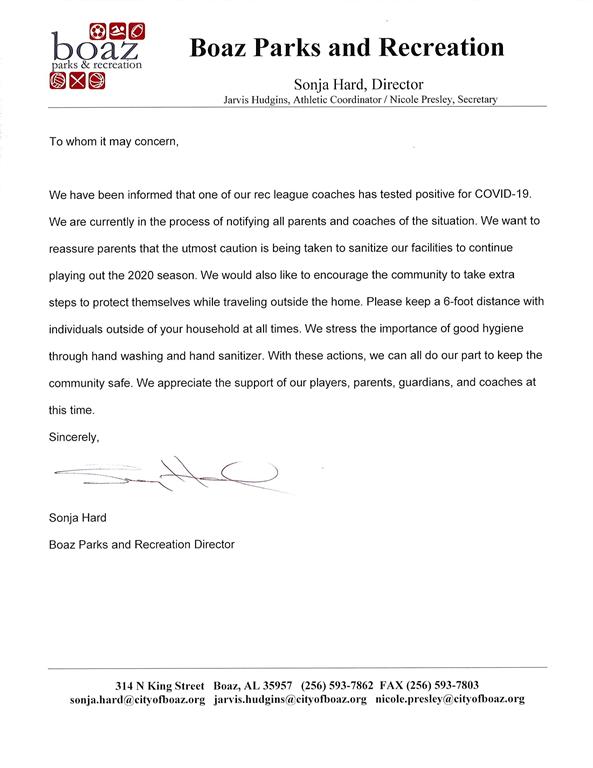 Disaster Relief 2020 - Thursday, April 23, 2020
Since the storms on April 12, 2020 we have seen damage and destruction in our area. More importantly, we have seen strength from not only our own community but neighbors as well. Help is available for anyone affected by the tornado who does not have insurance or is in need. Fill out an application and we will do all we can to help. Please return applications to:
Boaz Area Chamber of Commerce.
100 East Bartlett Ave.
Boaz, AL 35957
boazareachamberassist@gmail.com / 256-593-8154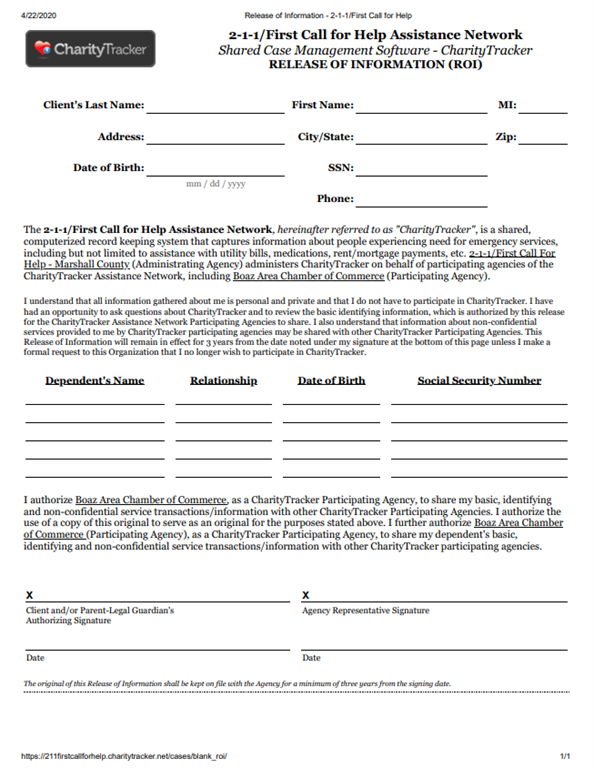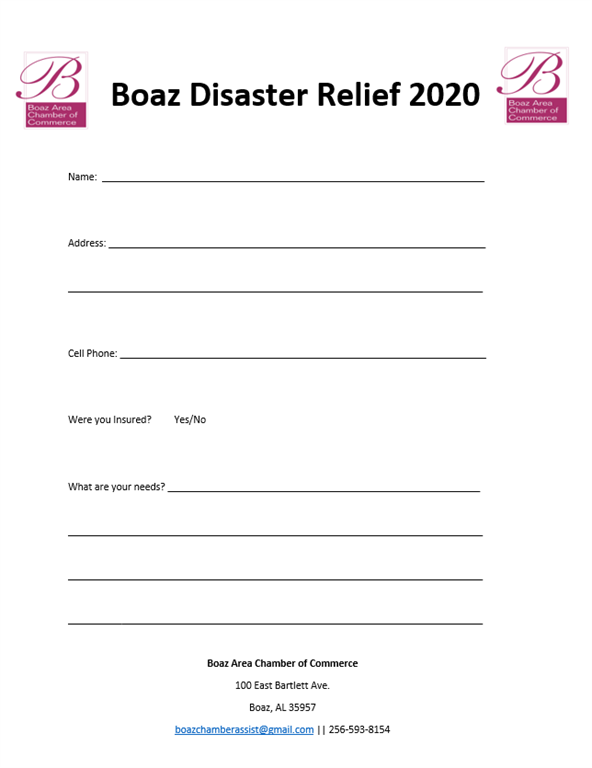 Boaz Parks & Rec Updates
Our employees are hard at work getting our facilities ready to open to the public. We can't wait!
Click the picture to check out our updates at Boaz Parks & Rec!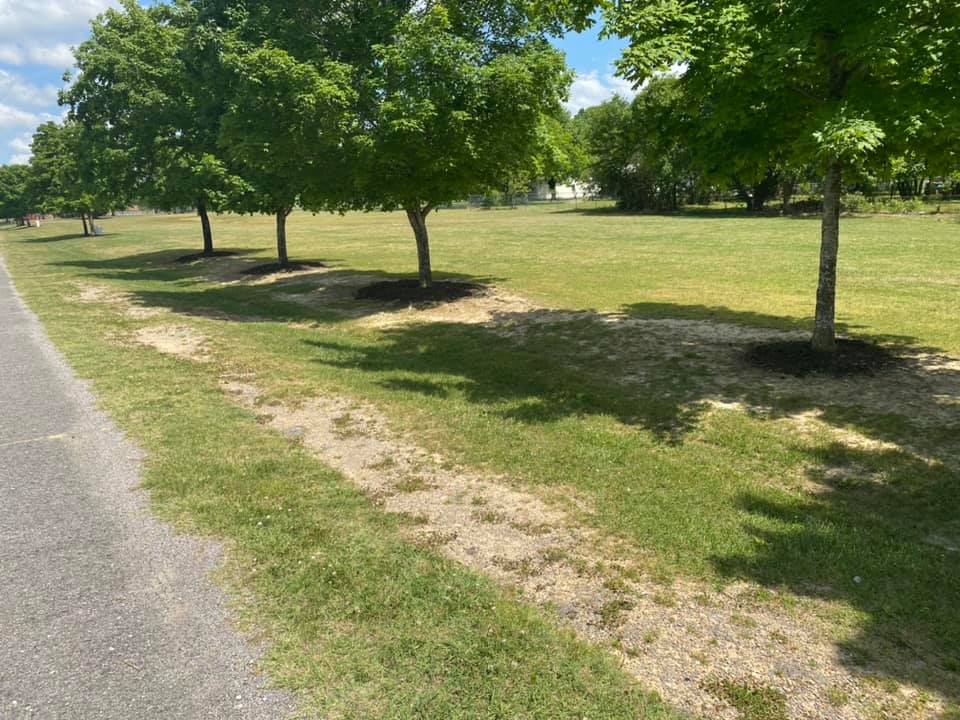 2020 Skinny Turkey 5K/10K - Friday, May 1, 2020
We are excited to announce that registration is now open for the 2020 Skinny Turkey 5K/10K! This third annual event is scheduled for Saturday, November 21, 2020.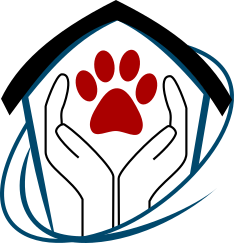 Proceeds will benefit Second Chance Shelter, a non-profit, no-kill dog shelter that saves and houses dogs until they are adopted to their forever home. Check them out on social media or give them a call for more information on how you can change a dog's life today! 256-561-2411

Click HERE to sign up online or click HERE for a pdf form.

Follow us on Facebook to stay up to date with registration fee increases, giveaways, and more!
Please mail forms and fees to:
Boaz Recreation Center
314 North King Street
Boaz, AL 35957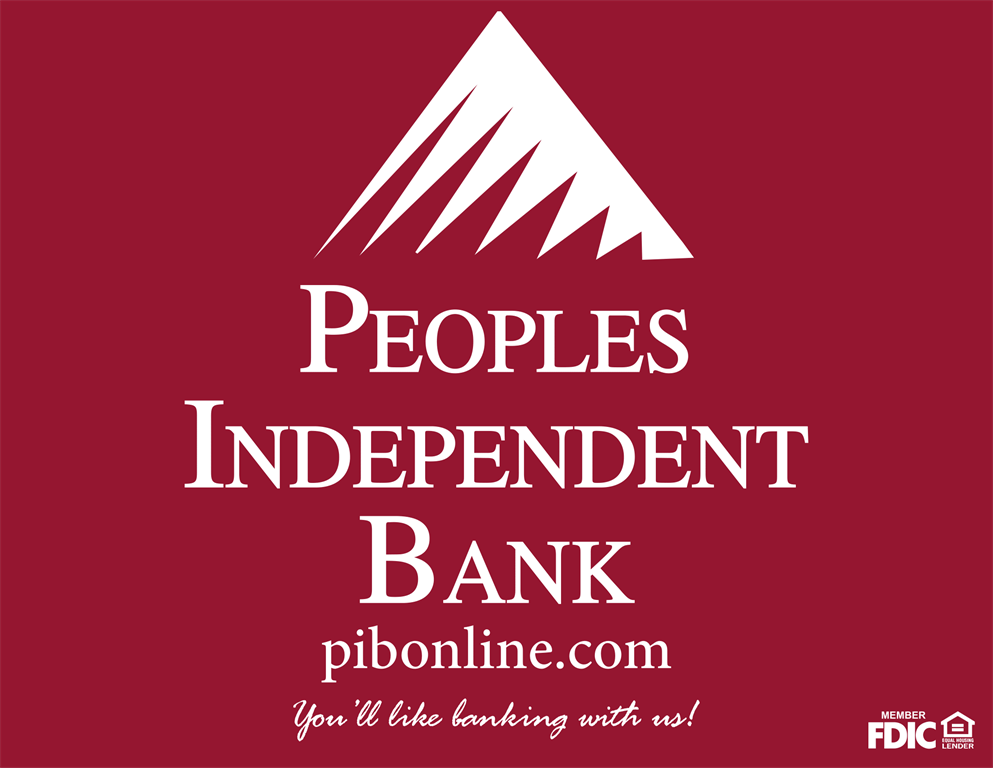 Our Diamond Sponsor, Peoples Independent Bank presents this event.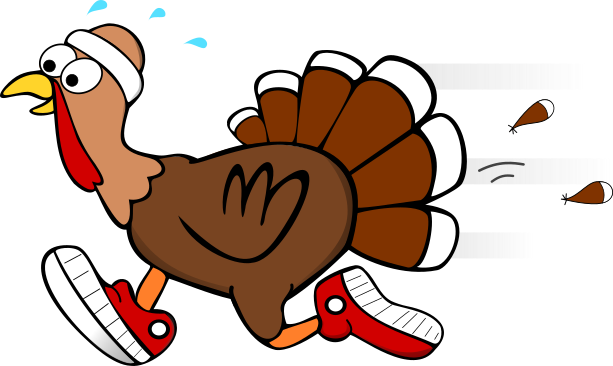 Coaching Registration
"A good coach can change a game. A great coach can change a life."

― John Wooden
We owe much of our success to the wonderful coaches who volunteer their time to the children in our programs. If you are interested in becoming a coach, please follow these instructions:
Click here to print and complete the Alabama Background Check Report Waiver. This form must be returned to the Boaz Rec Center in order to be considered to coach. You may scan and email the form to nicole.presley@cityofboaz.org or fax the form to 256-593-7803.

Register for the Request to Coach program.

Keep an eye on your email! Once coaches are chosen, you will receive a link to complete the required training.
Coaches will be contacted by the Athletic Coordinator, Jarvis Hudgins.
The Boaz Parks and Recreation Department reserves the right to deny coaching privileges based on information gained from a criminal background check or information from references and past coaching experience. Information collected will not be shared to the public.
For more information contact the Boaz Rec Center 256-593-7862 or email jarvis.hudgins@cityofboaz.org